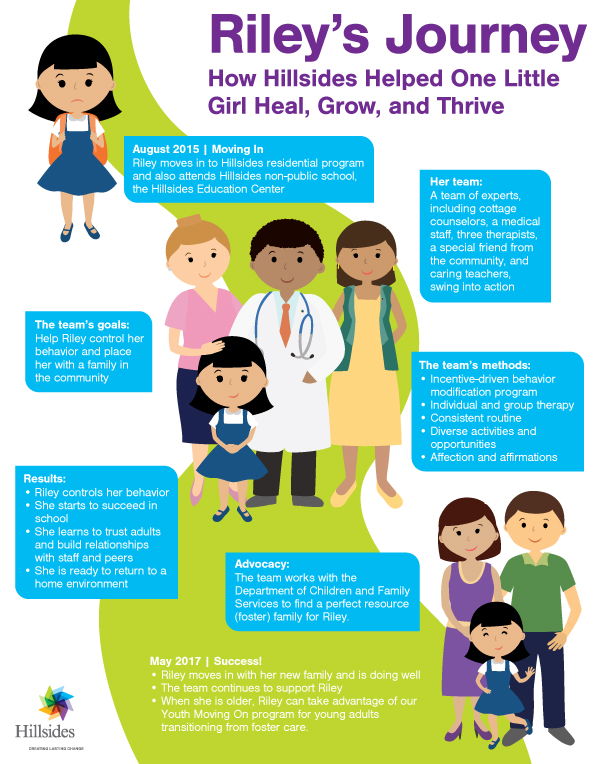 Heal, grow, and thrive.
They may be small words, but they make a huge impact. And at Hillsides, we are committed to them.
We help the 14,000 children and families we serve heal from trauma, grow in skills and resiliency, and thrive in their schools, communities, and workplaces. We transform loss and tragedy into hope and a bright future.
These words were key for Riley, a young girl who arrived at our Hillsides residential program full of anger and mistrust due to her years spent in the foster care system. Our staff surrounded her with love and care, with the goal of finding her a home with a family. They were successful, and today Riley is living happily with a loving resource (foster) parent.
Healing, growing, and thriving are also crucial for the children, youth, and families in all our programs, whether a child in foster care, a student with learning challenges, a youth transitioning from foster care, or a family challenged with financial or mental health needs.
Please join us as we strengthen and transform families and communities.We can't do it alone. To make a truly big impact, we need you. Please consider making a gift of $50, $100, $250, or $500 today.
Sincerely,

Joseph M. Costa
Hillsides President and Chief Executive Officer
Donate via Credit Card or eCheck
FAQ
Is my donation and credit card info secure?
Yes, the security and confidentiality of your information is our highest priority. We will not sell, trade or share your personal information with anyone else, nor send donor mailings on behalf of other organizations, and we will only share personal information if you have given us specific permission to do so.
Is my donation tax deductible?
Yes, we are a 501(c)(3) public charity recognized by the IRS. Your donation is tax-deductible to the fullest extent permissible by law.
How do I know that my donation was made successfully?
You will receive an emailed receipt immediately after your donation is submitted and your credit card is processed. Your donation will also show up on your bank or card statement within 1-3 business days.
Do I get a receipt?
Yes, a receipt is sent to your email inbox once your donation is processed. Please be sure to keep a copy of your receipt for tax purposes. If you select a recurring donation, you will be sent an individual receipt each period when your donation is processed.
Is my donation private?
We will not share or sell a donor's personal information with anyone else, nor send donor mailings on behalf of other organizations.