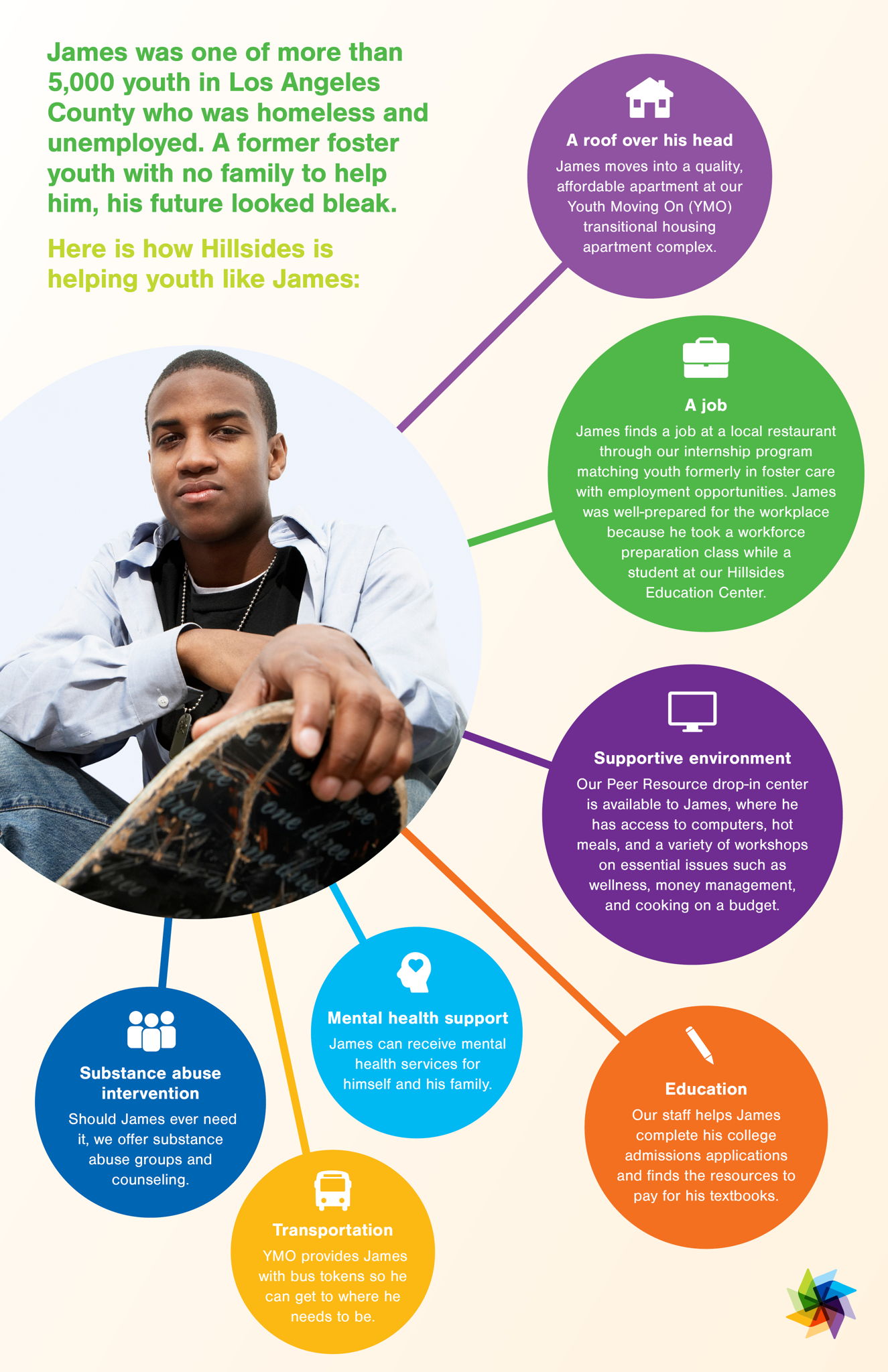 At Hillsides, we serve many needs. We provide adoption services and homes for children in foster care, a therapeutic non-public school offering individualized education, housing and employment for youth formerly in foster care, and counseling centers where youth and families can receive crucial mental health services.
While each program stands alone, they also complement each other. Clients are able to take advantage of many of our services as they heal, grow, and thrive.
For example, a child in foster care might live in our residential treatment program and also attend our school. Once the child graduates, they can access our Youth Moving On program for youth transitioning from foster care to adulthood and also take advantage of our counseling services.
James, a youth formerly in foster care who at 21, found himself homeless and unemployed. We were able to surround him with services, reaching across our programs, to get him the help he needed. Today he is living in an apartment, working a job, and planning to apply to college.
At Hillsides, we are committed to using all of our many resources to support the more than 17,000 children, youth, and families we serve.
Please join us in helping youth like James. We can't do it alone. To truly make a big impact, we need you. Please consider making a gift of $50, $100, $250 or $500 today.
Sincerely,



Joseph M. Costa
Hillsides President and Chief Executive Officer
Donate via Credit Card or eCheck
FAQ
Is my donation and credit card info secure?
Yes, the security and confidentiality of your information is our highest priority. We will not sell, trade or share your personal information with anyone else, nor send donor mailings on behalf of other organizations, and we will only share personal information if you have given us specific permission to do so.
Is my donation tax deductible?
Yes, we are a 501(c)(3) public charity recognized by the IRS. Your donation is tax-deductible to the fullest extent permissible by law.
How do I know that my donation was made successfully?
You will receive an emailed receipt immediately after your donation is submitted and your credit card is processed. Your donation will also show up on your bank or card statement within 1-3 business days.
Do I get a receipt?
Yes, a receipt is sent to your email inbox once your donation is processed. Please be sure to keep a copy of your receipt for tax purposes. If you select a recurring donation, you will be sent an individual receipt each period when your donation is processed.
Is my donation private?
We will not share or sell a donor's personal information with anyone else, nor send donor mailings on behalf of other organizations.